Welke avonturier droomt er niet van om puzzels op te lossen die je de wereld rond doen reizen om je uiteindelijk te leiden naar een grote schat? Het lijkt allemaal zo ver weg nu we zelfs niet meer kunnen reizen. En alle schatten zijn al gevonden, toch? Fout!
Wat als we je vertellen dat je vandaag nog op schattenjacht kan, en dat zonder je woonkamer te verlaten? Tenminste tot je alle puzzels hebt opgelost en de naar de juiste locatie zal moeten reizen.
Which adventurer does not dream of solving puzzles that will take you around the world and eventually lead you to a great treasure? It all seems so far away now that we can't even travel anymore. And all the treasures have already been found, right? Fuck!
What can you say that you can go on a treasure hunt today, without leaving your living room? At least until you have solved all puzzles and have to travel to the correct juicing location.
The Golden Owl
In 1993 begon in Frankrijk een gigantische zoektocht naar een schat. Een ideetje van een schrijver die twintig jaar had gespendeerd om elf raadsels te verzinnen die uiteindelijk zouden leiden naar de schat, een gouden uil. Een ware schattenjacht dus.
Hoewel hij veronderstelde dat deze zou worden gevonden in een aantal maanden, zijn ze 27 jaar later nog steeds op zoek naar de juiste locatie.
En gezien ze niets beters te doen hebben momenteel, kunnen ze ineens zelf proberen de raadsels te ontcijferen.
In 1993, a gigantic search for treasure began in France. An idea from a writer who spent twenty years inventing eleven riddles that would eventually lead to the treasure, a golden owl. A true treasure hunt.
Although he assumed it would be found in months, they are still looking for the right location 27 years later.
And since we have nothing better to do at the moment, why not try to decipher the riddles ourselves?
11 clues
In totaal zijn er 11 raadsels die leiden naar de exacte locatie van de gouden uil, ergens in Frankrijk. De eerste tip verwijst naar de volgorde van de andere tien en is inmiddels ontcijferd. We zullen je deze dan ook besparen. Wat rest zijn tien raadsels die opgelost moeten worden.
In total, there are 11 riddles that lead to the exact location of the golden owl, somewhere in France. The first tip refers to the order of the other ten and has now been deciphered. We will also save you this. What remains are ten riddles to solve.
Clue 1 – Opening
Mon Premier, première moitié de la moitié du premier âge,      -> Baby
Précède mes Second et Troisième, cherchant leur chemin.    -> OU (où)
Mon Quatrième s'inspire, mon Cinquième est en rage,      -> Air (R)
Mais, sans protester, suit mon Quatrième et l'alpha romain.  -> RaGe (volgt de vierde letter, G, en de Alpha, A)
Mon sixième, aux limites de l'ETERNITE se cache.      ->  EternitE
Mon Septième, dressé, crache son venin.  -> Sssss
Pour trouver mon tout, il suffit d'être Sage,
Car la Vérité, en vérité, ne sera pas affaire de Devin.
Het begin van de schattenjacht ligt in het Franse dorp Bourges. Waar de laatste twee zinnen naar verwijzen is nog onduidelijk.
My first, first half of the half of the first age, -> Baby
Precedes my Second and Third, seeking their way. -> OU (où)
My Fourth is inspired, my Fifth is in rage, -> Air (R)
But, without protest, follows my Fourth and the roman alpha. -> RaGe (follows the fourth letter, G, and the Alpha, A)
My Sixth is hidden at the limits of ETERNITE. -> EternitEMy Seventh, standing, spits his venom.    -> Sssss
To find my all, just to be wise,
Because the Truth, in truth, will not be a Devin's affair.
The treasure hunt begins in the French village of Bourges. What the last two sentences refer to is still unclear.
Clue 2 – First Step…
Où tu voudras,
Par la rosse et le cocher.
Mais où tu dois,
Par la boussole et le pied
Er wordt beweerd dat het tweede raadsel cruciaal is, maar helaas is de oplossing nog niet gekend. Er wordt verondersteld dat men de richting van het kompas moet volgen, wat naar het zuiden zou zijn.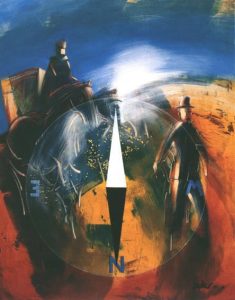 Where you want,
By the nag and the coachman.
But where you must,
By the compass and the foot.
The second riddle is said to be crucial, but unfortunately the solution is not yet known. It is supposed to follow the direction of the compass, which would be south.
Clue 3 – CE N'EST LE BON CHEMIN QUI SI LA FLECHE VISE LE COEUR
Mon Premier par la gaîté se multiplie.    -> Ahahah
Mon Second t'offre de l'espace,      –> spatie
Mon Troisième de l'air, et mon Quatrième de l'eau.      ->  AiR et O
Quand il est couché, mon Cinquième ronfle.    –> Letter N die ligt wordt Zzzz
Mon sixième vaut cent, et mon Septième n'est qu'un noeud.     ->  C is Romeins voor honderd, zevende letter E
Mon Huitième a le goût du laurier,  -> Victoire
Tandis que mon Neuvième, par l'étonnement, se traîne.  ->  Verbazing, Aaaaa
Mon Dixième est toujours nu quand il a une liaison.       U
Mon onzième, enfin, est l'inconnue.      -> X, zoals op een schattenkaart of wiskunde
Trouve mon Tout, et, par l'Ouverture, tu verras la lumière.
Dit raadsel verwijst naar A Roncevaux. Dit zou een stad zijn in het Spaanse Baskenland waar een belangrijke veldslag is geleverd. Ook de foto zou dit antwoord bevestigen. Het is wel niet duidelijk waarom er een A voor de stadsnaam staat.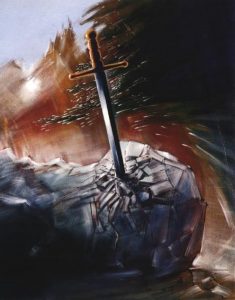 My First multiplies by gaiety.
My Second offers you space,
My Third air, and my Fourth water.
When he's lying, my Fifth snores.
My Sixth is worth one hundred, and my Seventh is just one node.
My Eighth tastes like laurel,
While my Ninth, with astonishment, stays behind.
My Tenth is always naked when there's a link.
My Eleventh, finally, is the unknown.
Found my all, and through the opening, you will see the light
This riddle refers to A Roncevaux. This would be a city in the Spanish Basque Country where an important battle was fought. The photo would also confirm this answer. It is not clear why there is an A in front of the city name.
The word opening in the last sentence probably refers to clue 1 (Bourges).
Clue 4 – LE BONS SENS, C'EST LE SENS DU CONTRESENS, ET INVERSEMENT
19.9.13.12.15.19.18.21.15.9.19  becomes 1
12.15.19.18.21.15.9.19.18.9.13.8.15.4  becomes 2
9.13.16.16.9.13.9.5.18  becomes 3
25.1.12.14.18.9.13.16.9.13  becomes 4
8.15.4.1.12.9.19.18.15.1.6  becomes 5
18.9.13.13.5.18.18.1.12.18.9.13.12.15.19  becomes 6
20.18.21.15.15.4.18.9.13.8  becomes 7
9.13.18.9.15.19.19.9  becomes 8
15.4.1.12.14.18.1.12.10  becomes 9
19.18.9.13.12.15.19.14.1.12  becomes 0
Ook hier is de oplossing al gekend. Deze wordt bekomen door drie verschillende stappen. Eerst worden alle getallen vervangen door letters (a=1, b=2, …), daarna worden deze omgedraaid. In de derde stap worden alle letters die muzieknoten vormen vervangen door letters volgens het Solfége muzieksysteem.
Het eindresultaat wordt:
The solution is already known here. This is achieved by three different steps. First all numbers are replaced by letters (a = 1, b = 2, …), then they are reversed. In the third step, all letters that form musical notes are replaced by letters according to the Solfége music system.
The end result is:
B ourges will be worth 1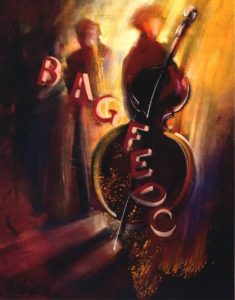 C herbourg will be worth 2
D ieppe will be worth 3
E pernay will be worth 4
F orbach will be worth 5
G erardmer will be worth 6
H éricourt worth 7
Issoire will be worth 8
J arnac will be worth 9
A ngers will be worth 0
Voor nu hou ik het bij deze vier raadsels. Drie van de vier zijn de oplossingen grotendeels bekend. Alleen raadsel twee niet. En wat is het verband tussen de aanwijzingen. Laat weten wat je denkt in de comments hieronder!
For now, I'll stick to these four riddles. Three out of four, the solutions are largely known. Only riddle two doesn't. And what is the connection between the clues. Let us know what you think in the comments below!